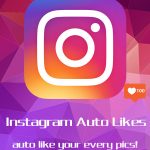 Instagram Auto Likes
$1.00 – $80.00
Description
Services: Instagram auto likes allow you post pictures and auto get likes. There is no time limited.
Time required: After paid, we need 1~2 hours to make your account active in our auto like system.
Note:
1. You have to make your IG account in public during the auto likes. You will get likes in 1 hours after post a picture.
2. Example of a instagram link: https://www.instagram.com/YourUserName
3. Don't change your username during auto likes.
How to Buy Instagram auto likes?
Step 1: Choose the quantity above.
Step 2: Type your instagram link in the "Link" input box.
Step 3: Click add to cart.
Step 4: Go to checkout page and pay.
Final Step: Just Wait for about 1~2 hours.